According to the ManpowerGroup Employment Outlook Survey released today, hiring activity in Belgium is expected to remain intense in the fourth quarter of 2022. According to the survey conducted at the end of July with 512 employers(1),  46% of employers expect to increase their headcount over the next three months, while 13% expect to reduce their workforce. 39% of employers surveyed anticipate no change. After seasonal adjustment, the Net Employment Outlook(2) – or the difference between the percentage of employers anticipating hires and the percentage anticipating layoffs – stands at a very promising 33%. This is an increase of 8 percentage points compared to the previous quarter and 3 percentage points compared to the fourth quarter 2021.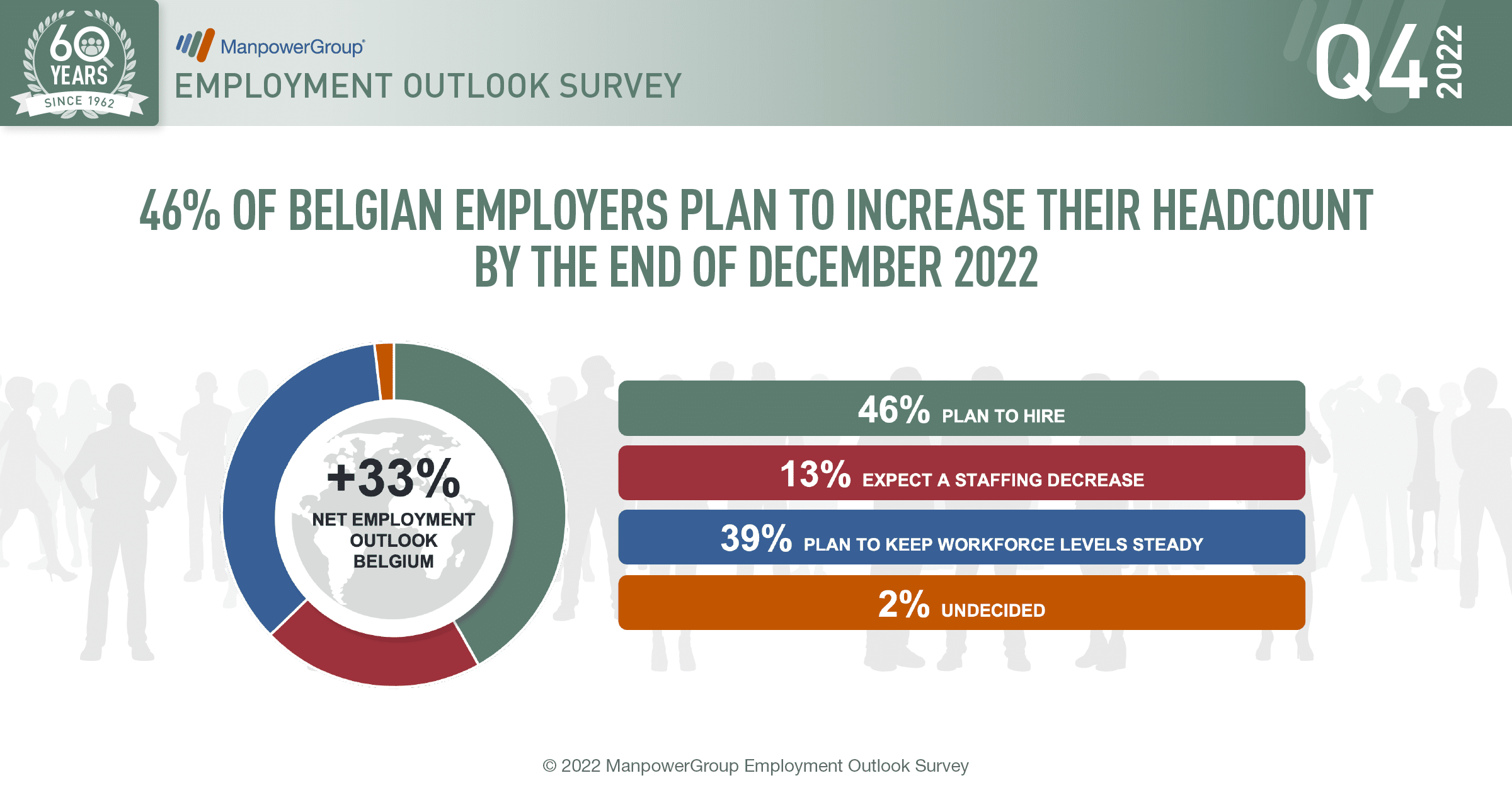 "In an increasingly uncertain economic environment marked by geopolitical tensions, increased cost pressures and rising inflation, our survey shows that employers are showing resilience by staying the course when it comes to employment," said Sebastien Delfosse, Managing Director of ManpowerGroup BeLux. "Faced with unprecedented talent shortages that affect more than three out of four employers in Belgium, employers are still willing to take the risk of recruiting and are reporting very optimistic hiring forecasts.  Difficulty finding the right profiles should give pause for thought and be translated into concrete action as the academic year begins at all levels of education. While waiting for the talent pool to fill up, more and more companies are recruiting on the basis of personality and soft skills by investing more in training through innovative induction programmes. Employers are also increasing their appeal by attempting to better meet candidates' new expectations."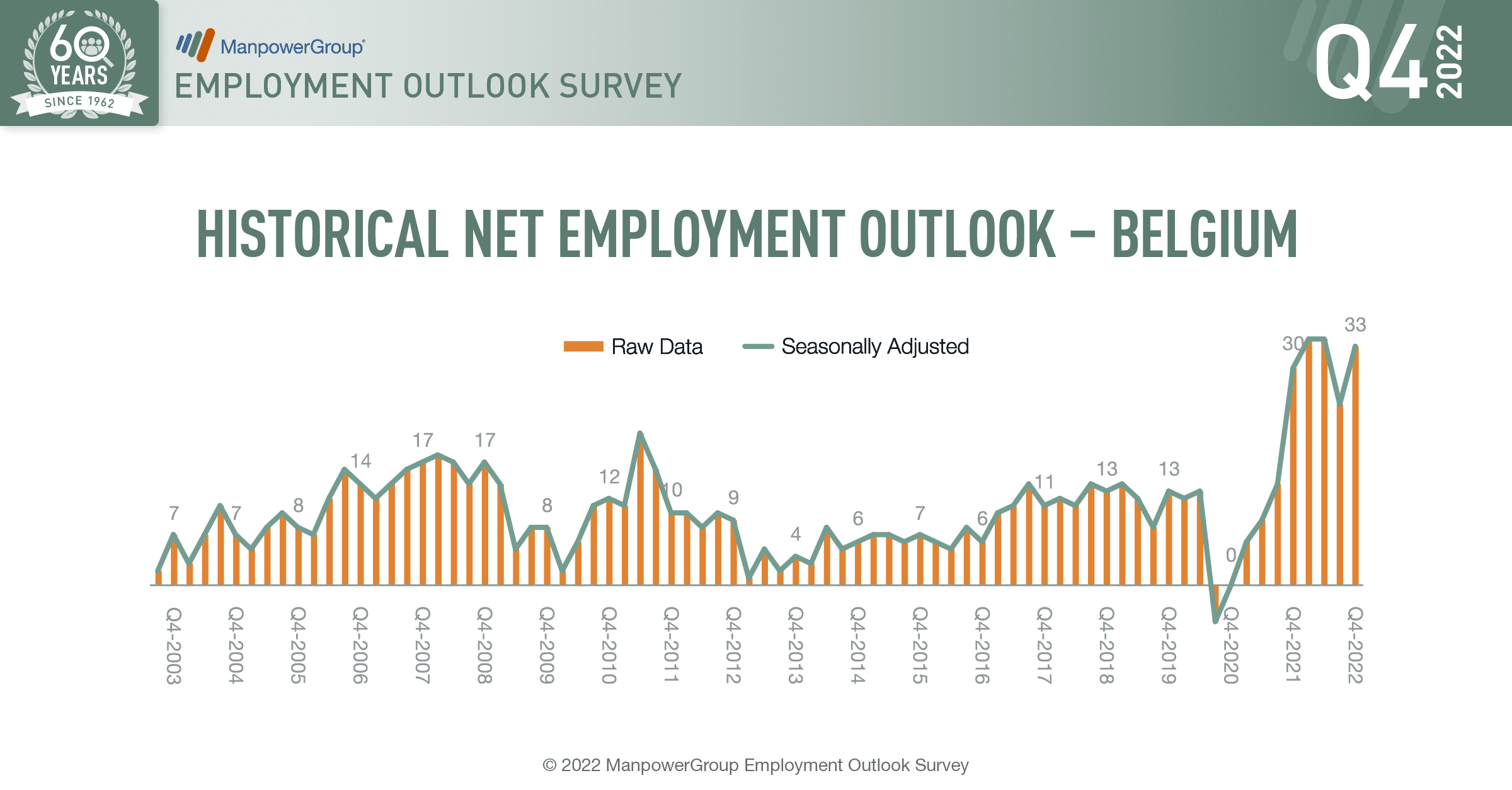 Mixed employment prospects at regional level
Employers in all three regions of the country report positive hiring intentions: highly optimistic in Brussels (+41%) and Wallonia (+35%) and more cautious in Flanders (+22%).
The Net Employment Outlook is improving strongly in Brussels, up by 22 percentage points in comparison with the previous quarter and by 10 percentage points in comparison with the same period last year. More than half of the employers surveyed in the Brussels region (52%) expect to create new jobs by the end of December.
In Wallonia, hiring intentions increase by 2 percentage points quarter-over-quarter and year-over-year, with 45% of employers in Wallonia anticipating hiring.
Conversely, in Flanders, the Net Employment Outlook declines by 3 and 7 percentage points quarter-over-quarter and year-over-year at +22%, slightly above  as the European average (+21%). In Flanders, 41% of employers surveyed anticipate adding to their workforce, while 19% plan to cut back. "These regional differences can be explained by sector-specific forecasts, with private sector employment in the Industry sector under greater pressure in Flanders," comments Sébastien Delfosse.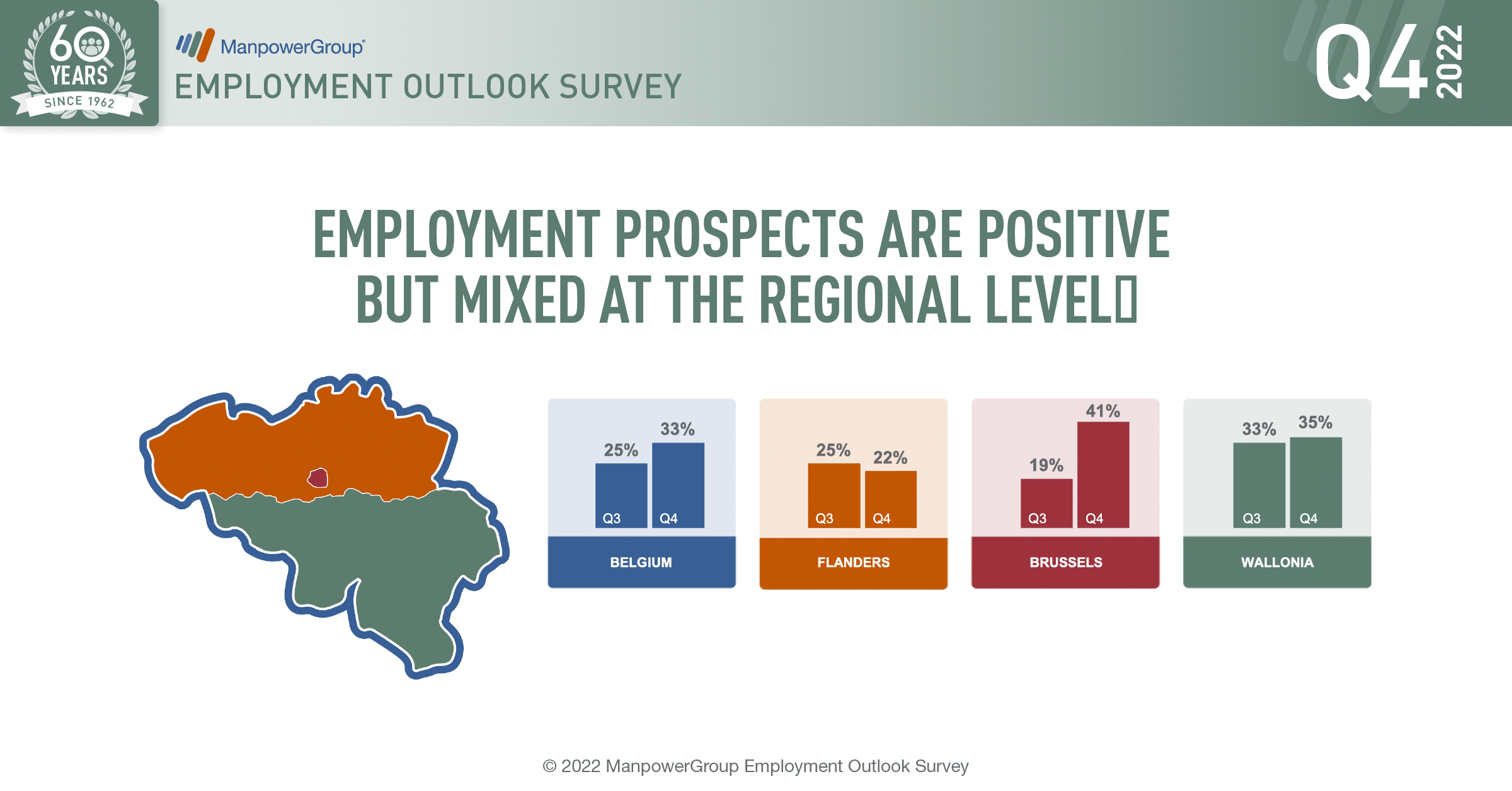 Many job opportunities expected in the financial sector
Employers in all 10 industry sectors   surveyed anticipate adding new jobs by the end of December. Employers in the Finance, Banking, Insurance & Real Estate industry sector are the most optimistic, reporting the strongest Net Employment Outlook in this sector since the survey was launched in Belgium in 2003 (+59%). Nearly seven out of ten (68%) employers surveyed in this sector anticipate adding jobs to their workforce. Hiring plans are also strong in the 'Public services, health care, education and social work' sector (+38%), in the Other Services sector (Professional, Scientific & Technical Services, Administrative Services), (+38%), and the Hotels, Restaurants, Culture & Leisure sector (+38%). "Nearly 6 out of 10  (57%) employers in the hospitality sector are looking for new profiles as this sector continues to rebuild its workforce after the covid crisis, while facing major recruitment difficulties," explains Sébastien Delfosse. Recruitment intentions remain very solid in the 'IT, Technology, Telecoms, Communication & Media' sector (+30%) confirming the strong demand for digital profiles.
Employment Outlooks are most cautious in the Wholesale & Retail Trade sector (+24%) and the Construction sector (21%), while employers in the Manufacturing sector (+11%) report a declining Outlook for the fourth consecutive quarter .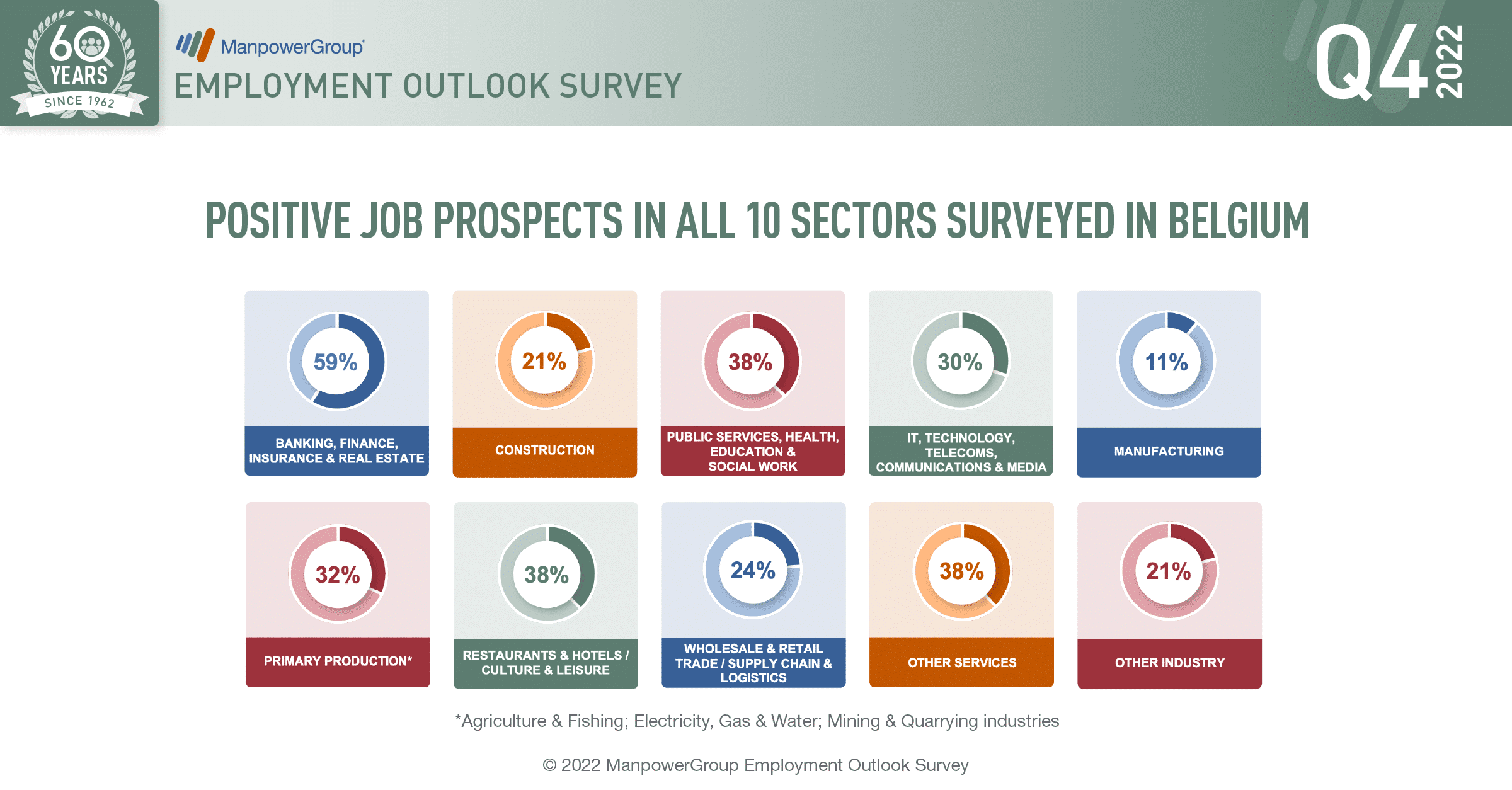 The survey also indicates that employers in the Small Businesses segment (10-49 employees) report the strongest Net Employment Outlook (+41%), followed by the Larger Businesses segment (≥ 250 employees / 37%).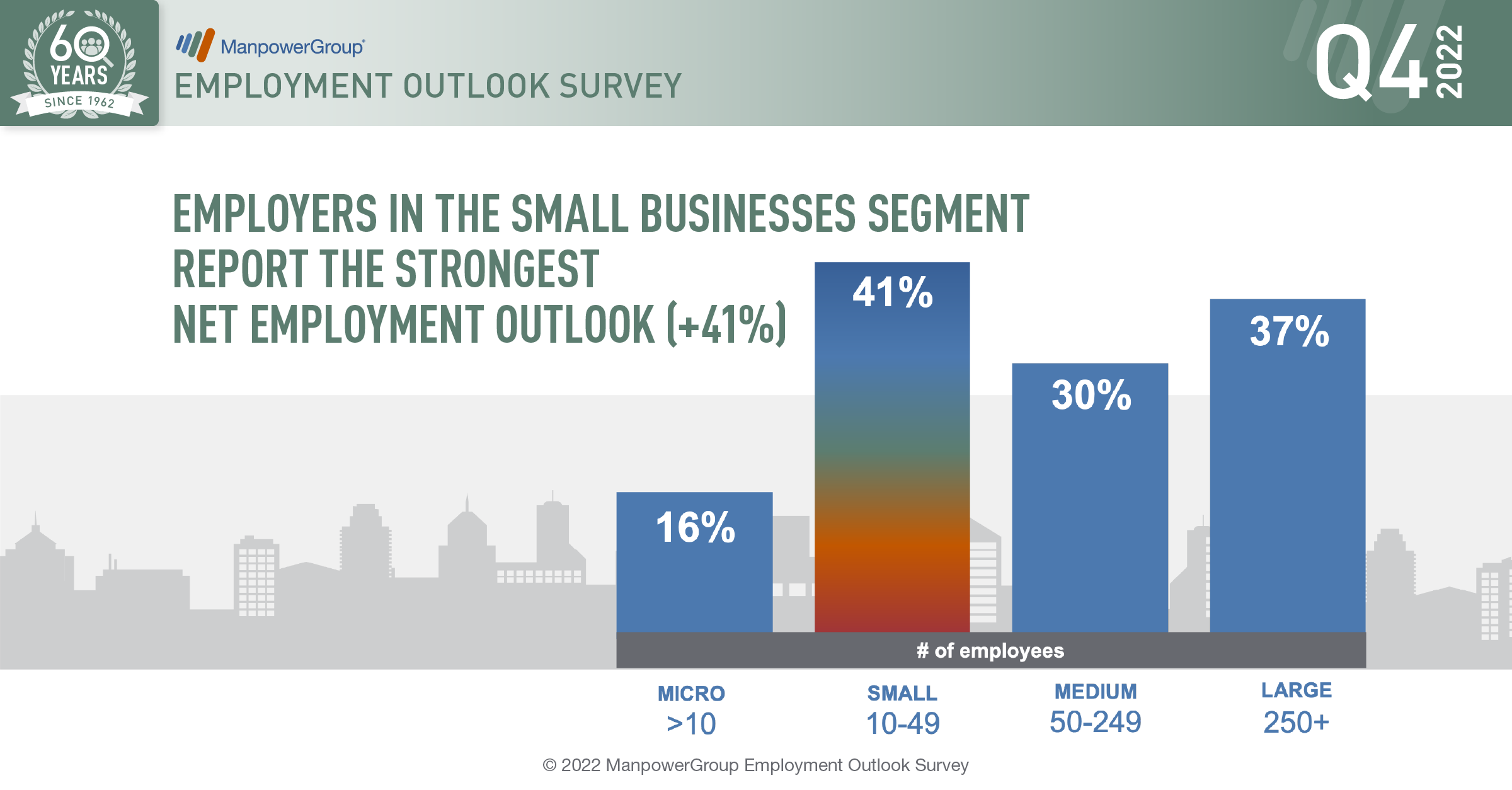 Positive employment prospects in 39 of 41 countries and territories surveyed
Hiring intentions for Quarter 4 2022 are positive in 39 of the 41 countries and territories surveyed, with only Greece (-3%) and Hungary (-5%) reporting negative Outlooks. With a Net Employment Outlook of 33%, Belgium is above the global average (+30%) and the EMEA average (+21%). Belgium stands in third place at European level behind France and Sweden (both at +34%) but ahead of the Netherlands (+28%), the United Kingdom (+25%), Germany (+20%), Italy (+13%), Spain (+2%) and Polen (+1%).
Globally, employers in Brazil (+56%) and in India (54%) report the the strongest Outlooks . China (+46%) comes fourth, while the US (+33%) stands at the same level as Belgium (14th), while Japan (+9%) is ranked 36th.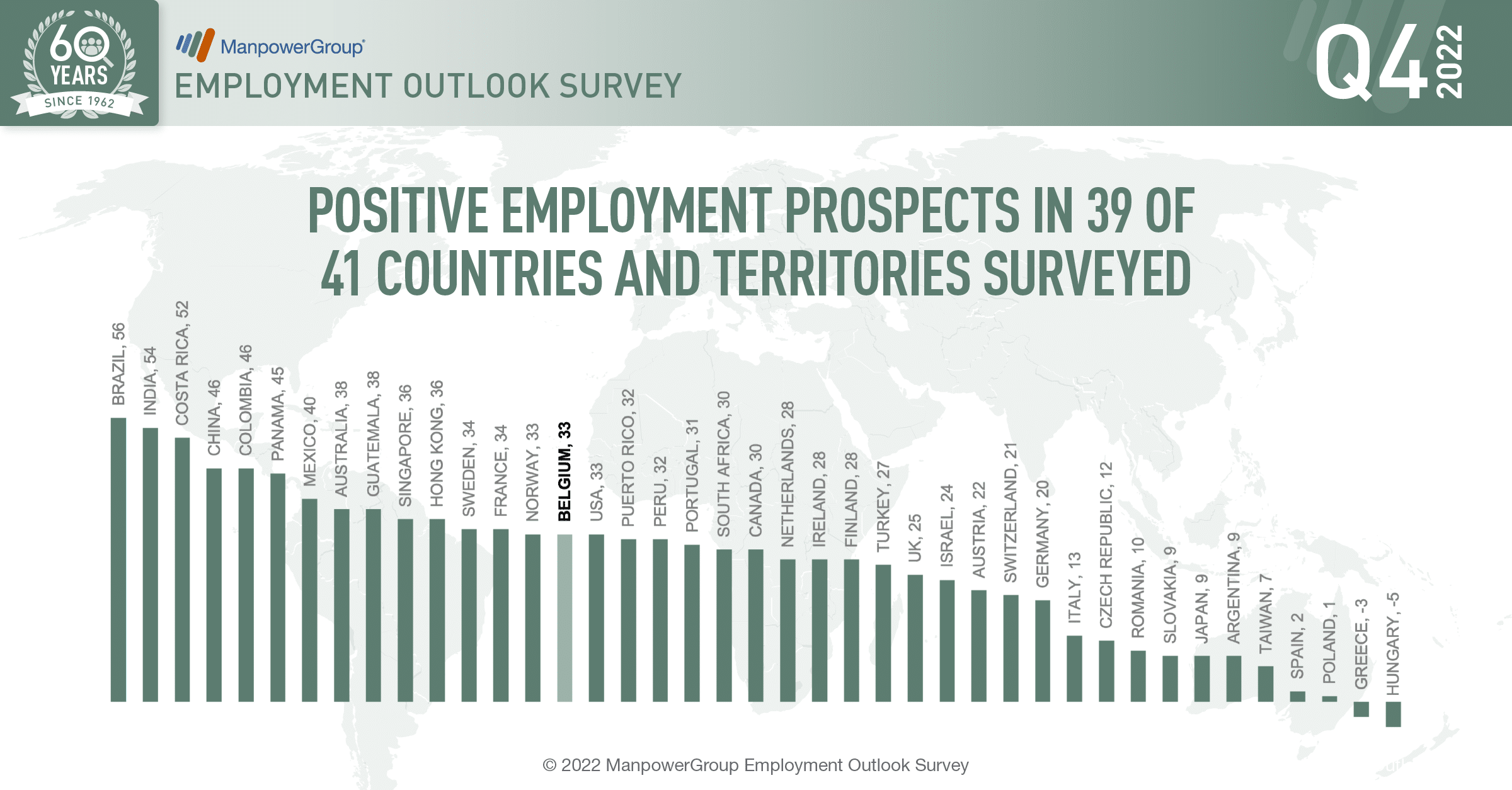 The results of the next ManpowerGroup Employment Outlook Survey will be released on 13 December 2022 (1th quarter 2023).
(1) The ManpowerGroup survey was conducted in July 2022.
(2) Throughout this report, we use the term "Net Employment Outlook." This figure is derived by taking the percentage of employers anticipating an increase in hiring activity and subtracting from this the percentage of employers expecting to see a decrease in employment at their location in the next quarter. The result of this calculation is the Net Employment Outlook. Net Employment Outlooks for countries and territories that have accumulated at least 17 quarters of data are reported in a seasonally adjusted format unless otherwise stated. Seasonally adjusted data are not available for Croatia.