The ceremony for the 11th edition of the HR Excellence Awards took place virtually on Wednesday, February 24, 2021 in the presence of more than 500 human resource professionals. The awards, in 13 categories, were presented to HR service providers who stood out through innovation, achievements and added value to their customers in this exceptional year marked by the COVID-19 pandemic. ManpowerGroup won the prestigious Award for "Best Staffing, Sourcing & Contingent Workforce Management Company".
As COVID-19 impacts all companies around the world, it seemed appropriate that the HR Excellence Awards 2020  explore how HR service providers support these companies to provide concrete and rapid solutions, not only in direct response to this pandemic, but also to build the organizational and talent management models of tomorrow. More specifically, the jury  examined the best contributions in the implementation of new ways of working, such as adaptation of the workplace and the operating model, development of communication and collaboration tools, agility and employee engagement, redefining roles and skills.

"It's very special to receive this prestigious Award after the unprecedented year that 2020 turned out to be" explains Philippe Lacroix, Managing Director of ManpowerGroup BeLux. "This award perfectly reflects the dual mission we strive to fulfill every day at the heart of the job market: on the one hand, offering innovative solutions to create value for our clients and on the other, developing the employability of our temporary workers and associates.  Building on our ManpowerGroup values – People, Knowledge, Innovation – we have  continued to transform our business to help our clients take on the challenges of HR and digital transformation today."
ManpowerGroup values in action
 The COVID-19 health crisis has shaken up our way of life and has profoundly transformed our organization. This transformation has played out on the basis of the three values ​​that define the culture and action of ManpowerGroup: People, Knowledge & Innovation. We were able to implement our crisis plans quickly. We continued our activity by activating innovative strategies for communication, employer branding, recruitment, learning & development, marketing, solutions for our customers and by accelerating the integration of digital in all these domaines impacting our internal staff, our temporary workers and associates on assignment, our customers and the job market in general.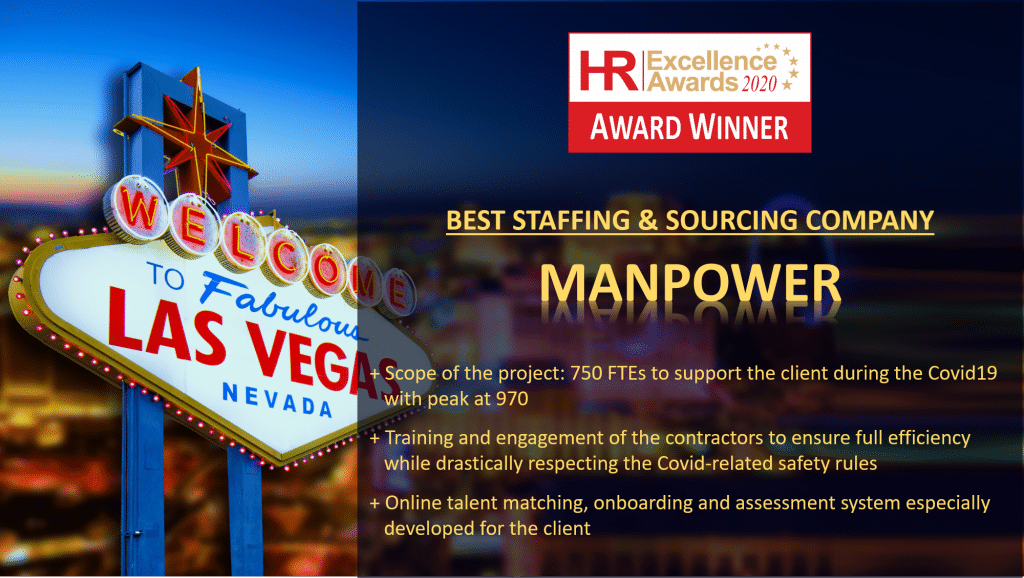 The dossier presented by Manpower  highlighted a number of achievements, including :
– strong internal communication leveraging opportunities offered by technology (videos and webinars), but always favoring the human dimension and interpersonal contact within the company;
– the 'PowerSuite' digital transformation strategy, implementing a new ATS (Applicant Tracking System) / CRM tool aimed at improving the quality of the customer experience for all candidates;
– unprecedented training efforts which have accelerated the acquisition of new digital skills and also soft skills and managerial skills;
– numerous actions that have enabled not only our temporary workers and staff on assignment to work in complete safety, but also to support candidates in their search for employment, particularly young people.
– the implementation of a service for our clients #ManpowerGroupbyyourside, offering 100% digital solutions and guaranteeing enhanced responsiveness for ​​recruitment and management of HR projects, as well as tailored advice.
– Building on our ManpowerGroup 'We Share The Knowledge' approach, we have been able to contribute expertise, quality information, and vision throughout this health crisis, whether through webinars, blogs / white papers or the ManpowerGroup Employment Outlook Survey, which provides a quarterly measure of the evolution of employment prospects.