The Net Employment Outlook rises for the second consecutive quarter, reaching its highest level for 2023 (+31%), but is still two percentage points weaker than a year ago.
According to the ManpowerGroup Employment Outlook Survey published today, Belgian employers expect to strengthen their hiring pace in Q4 2023.  Of the 510 employers surveyed by ManpowerGroup in July, 45% plan to increase their headcount by the end of December 2023, while 14% plan to reduce it. 38% of employers surveyed expect no change. After seasonal adjustment, the Net Employment Outlook(1)  – or the difference between the percentage of employers anticipating an increase in their in their staffing levels and the percentage planning to reduce headcount – stands at an encouraging +31%. This is an increase of 8 percentage points from the previous quarter, but a slight decrease of 2 percentage points from Quarter 4 2022.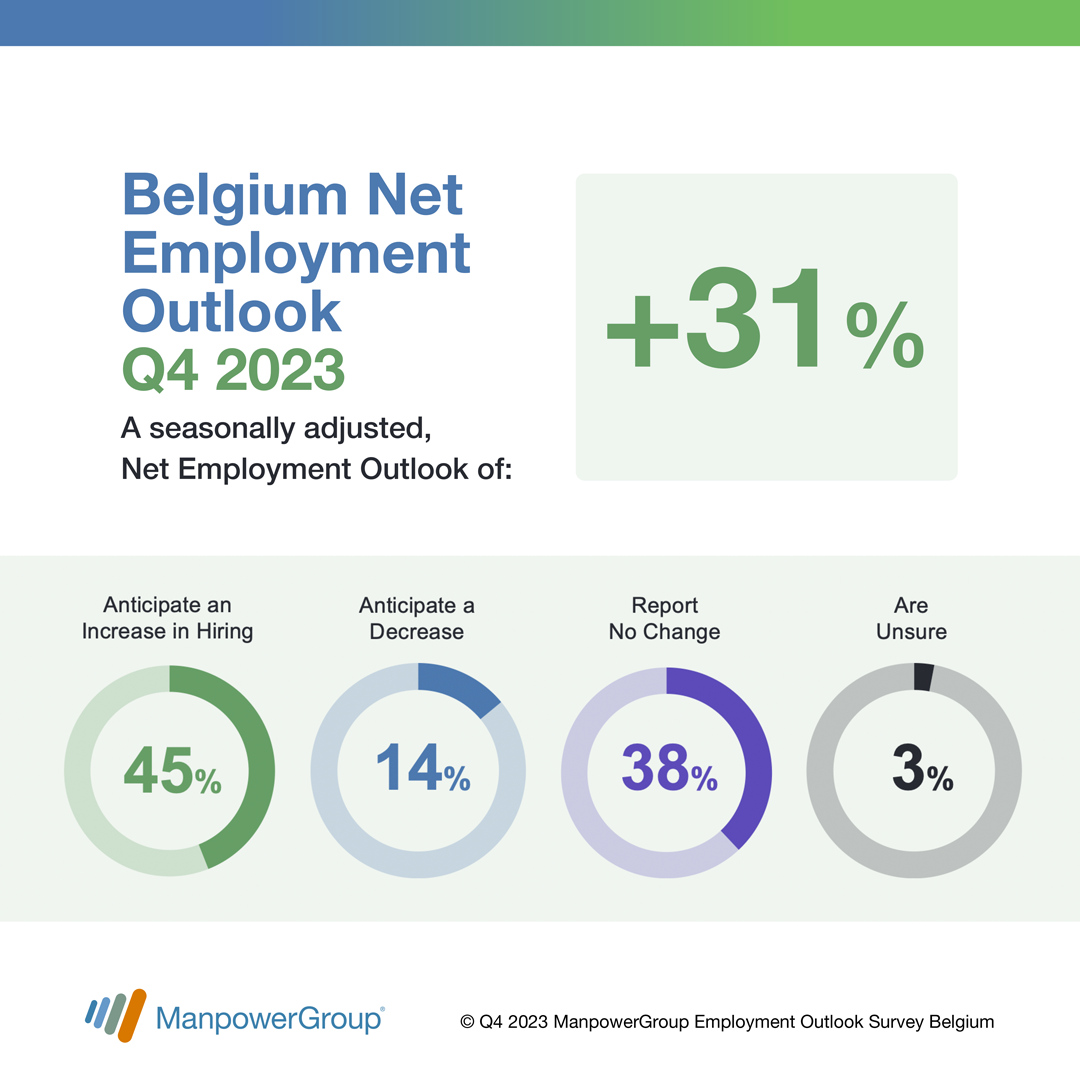 "The data for Q4 shows renewed optimism among employers for the second consecutive quarter, despite the continuing economic uncertainties," explains Sébastien Delfosse, Managing Director of ManpowerGroup BeLux. "This upturn comes after a slowdown in hiring in the first half of the year, due in particular to rising wage costs. This positive trend can also be explained by a postponement of hiring plans for vacancies that remain open because of talent shortages and difficulty finding the right profiles. As we approach the end of the year, companies remain focused on recruiting and retaining the talent they need to drive growth in a continually tight labor market. Investing in people and HR management, emphasizing upskilling, reskilling, flexibility, and culture, remain key for businesses to build resilience and agility for the future."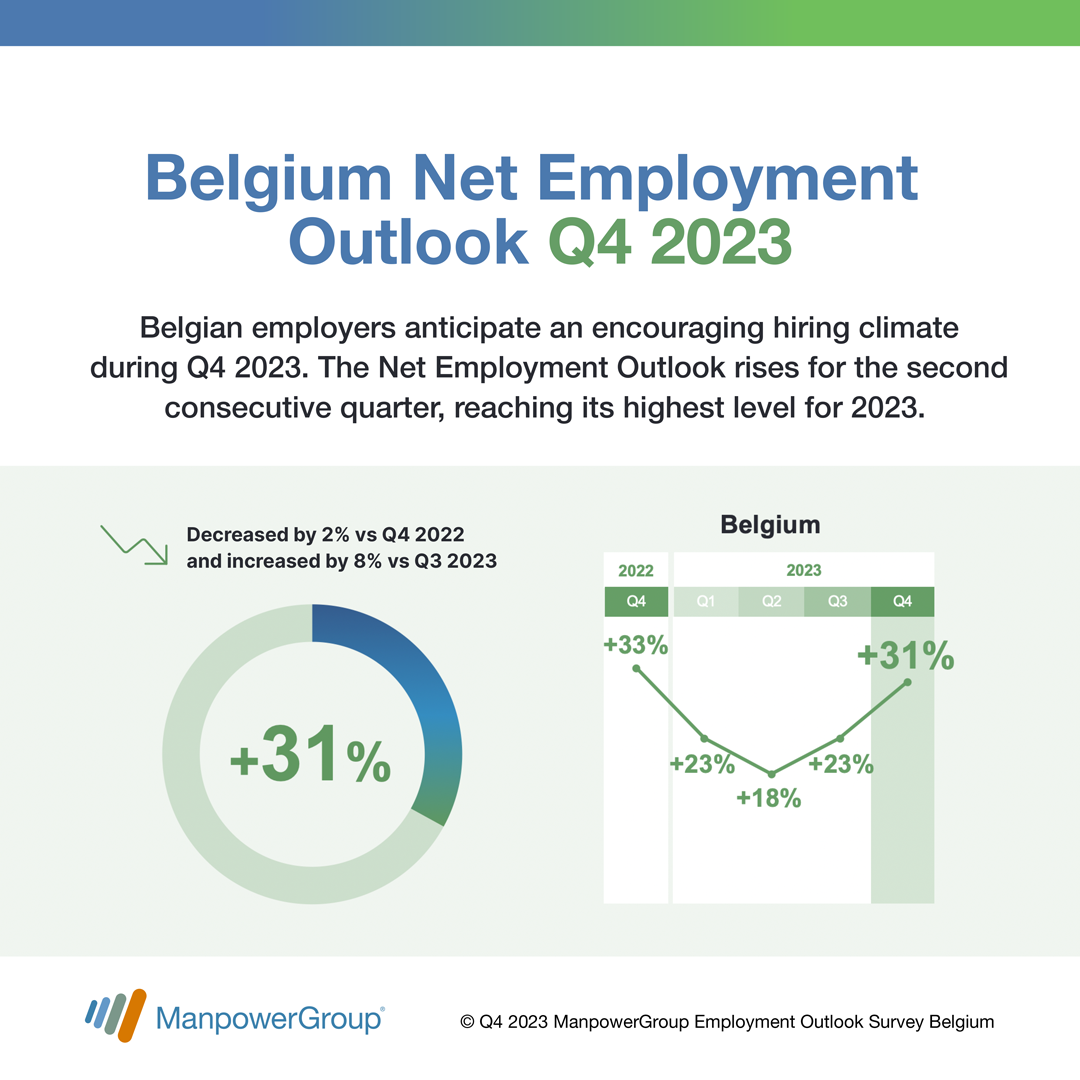 Very strong hiring context in Brussels 
Employers in all three regions of the country report positive hiring intentions for the upcoming quarter. Employers in Brussels are the most optimistic, reporting the strongest Net Employment Outlook in 2023 (+41%),  rising by 18 percentage points since the previous quarter and at the same level of Q4 2022. Employers in the other two regions are more cautious, both reporting a Net Employment Outlook of +27%, an increase of 5 percentage points in Flanders and a decrease of 8 percentage points in Wallonia in comparison with the previous year.
Positive Outlooks in all 9 industry sectors surveyed
Organizations in all 9 sectors in Belgium anticipate an increase in staffing levels in the upcoming quarter. Employers anticipate the strongest recruitment activity in the Energy & Utililites sector (+48%) and the Healthcare/Life Sciences sector (+45%). Job prospects are also very optimistic in the Communication Services sector (+38%), Finance and Real Estate (+35%), and Transport/Logistics/ Automotive (+35%). The job market is expected to be dynamic in the Manufacturing/Construction/Agriculture & Fishing sector. (+30%).   In contrast, employers are considerably more cautious in the Public Services/Education/Other sector (+25%), the Consumer Goods/Services/Horeca/Retail sector (+17%) and the IT sector (+17%).
Since the third quarter of 2023, hiring plans have strengthened in 6 out of 9 sectors and weakened in 3 sectors. Compared to Q4 2022, hiring prospects have strengthened in 4 out of 8 sectors for which we have data, and weakened in 4 sectors.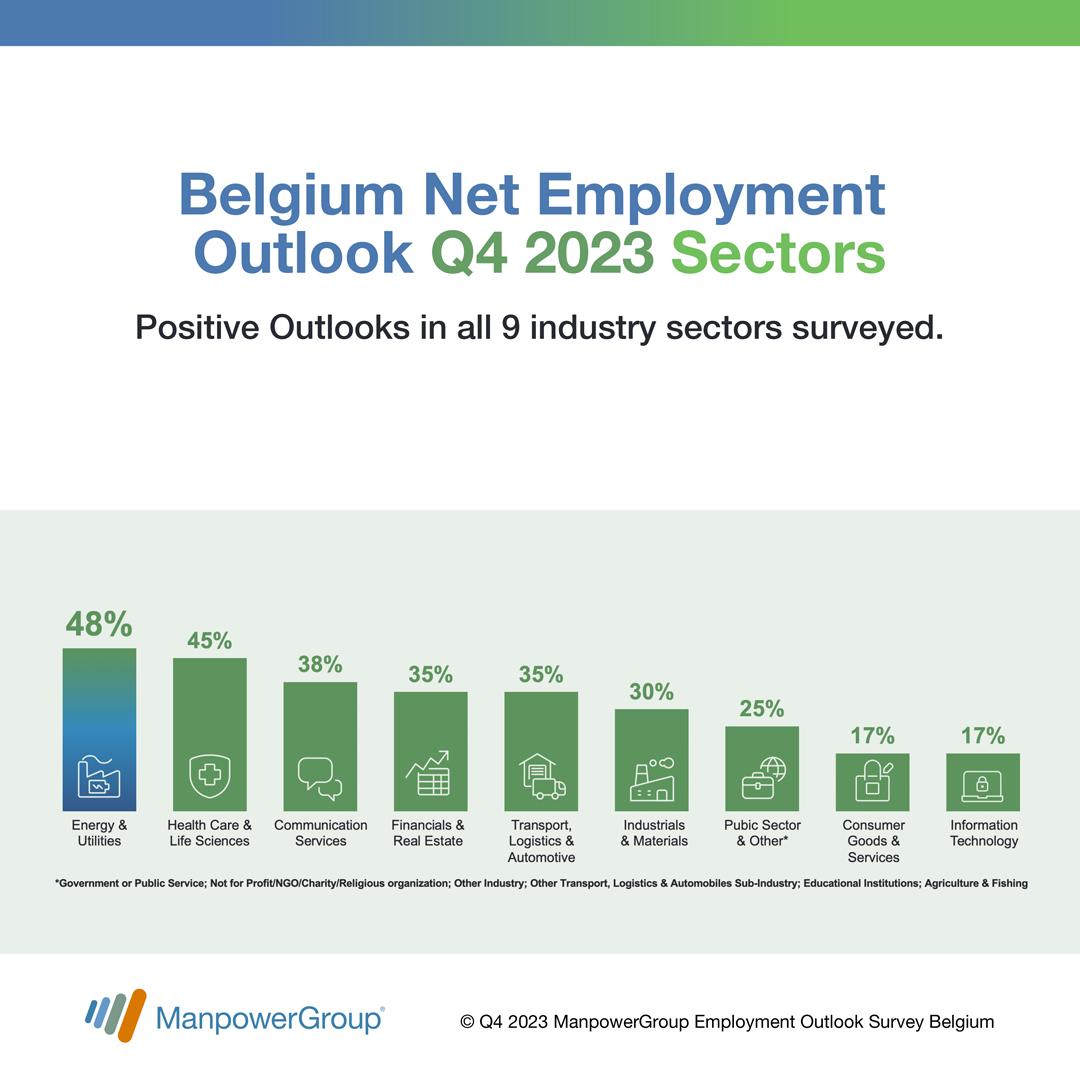 Greater optimism in small and medium organisations
According to the ManpowerGroup survey, all 4 organization sizes expect an increase in staffing levels in the fourth quarter of 2023:+20% for micro companies (<10 employees), +38% for small companies (10-49 employees), +39% for medium companies (50-249 employees) and +29% for large companies (≥ 250 employees).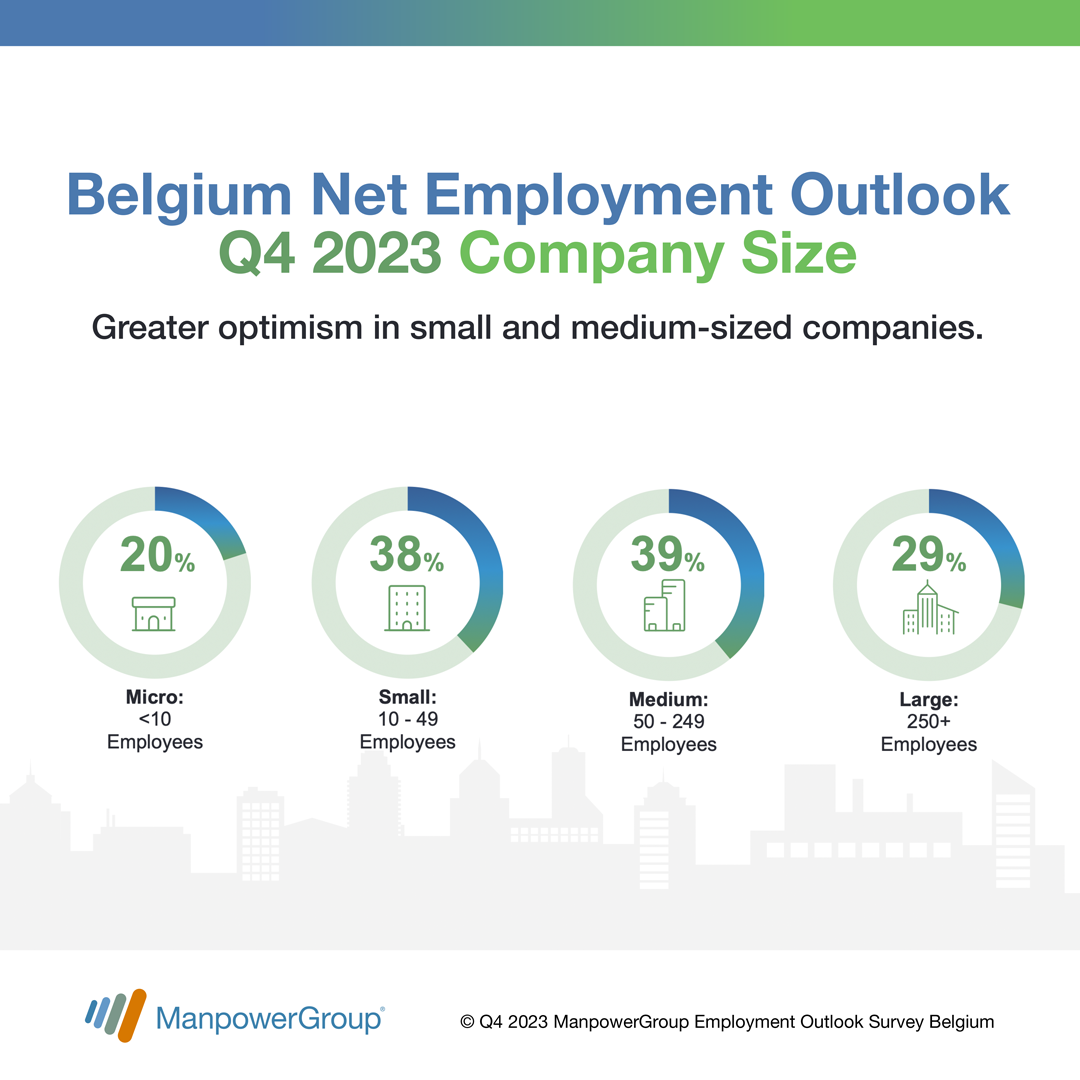 Positive employment outlook in all 41 countries and territories surveyed
At global level,  hiring  intentions are positive in all 41 countries and territories surveyed.  The Net Employment Outlook stands at +30%, and remains fairly stable both compared to the previous quarter (+1 point) and compared to the same period last year. "Employers around the world continue to show resilience in an economic environment that remains uncertain," suggests Sébatien Delfosse. More specifically, employer confidence improves in 24 countries, remaining unchanged in one, and weakening in 16 when compared to the same time last year.
The strongest hiring intentions were reported in Costa Rica (+41%), Brazil (+38%), and Switzerland (+38%); with employers in Argentina (+11%), the Czech Republic (+11%), and Japan (+11%) reporting the least optimistic Outlooks.
With a Net Employment Outlook of +31%, Belgium stands 6 points above the European average (+25%) and one point above the global average (+30%). Belgium ranks seventh out of 24 countries in the EMEA region, behind Switzerland (+38%), the Netherlands (+35%), Portugal (+35%), Finland (+33%) and Ireland (+33%), but ahead of the UK (+27%), France (+26%), Germany (+22%), Italy (+19%), Spain (+19%) and Poland (+17%).
Elsewhere in the world, the hiring climate for the third quarter looks more dynamic in India (+37%), the United States (+36), China (+35%), but much more limited in Japan (+11%).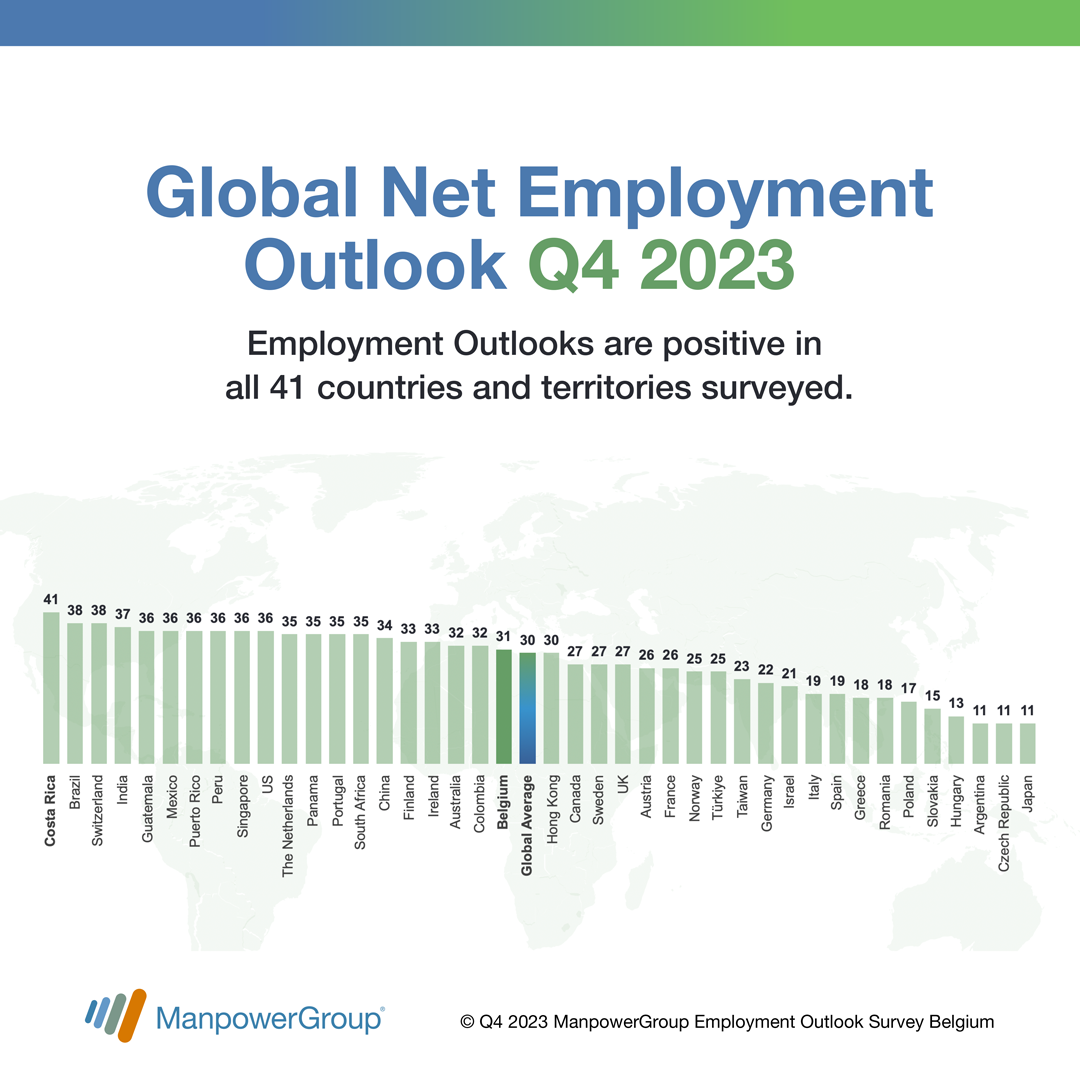 The results of the next ManpowerGroup Employment Outlook Survey will be released on 12 December 2023 (Quarter 1 2024).
 (1) Throughout this report, we use the term "Net Employment Outlook." This figure is derived by taking the percentage of employers anticipating an increase in hiring activity and subtracting from this the percentage of employers expecting to see a decrease in employment at their location in the next quarter. The result of this calculation is the Net Employment Outlook. Net Employment Outlooks for countries and territories that have accumulated at least 17 quarters of data are reported in a seasonally adjusted format unless otherwise stated.