Nearly one in two Belgian employers (48%) plans to create new jobs in Q1 2022
According to the ManpowerGroup Employmet Outlook Survey – which is celebrating its 60th anniversary worldwide – economic transformation and recovery in the Belgian labour market is expected to continue in the first quarter of 2022.
Of the 505 Belgian employers surveyed in October by ManpowerGroup (1),  48% plan to increase their workforce by the end of March 2022, whilst only 14% plan to cut it back. 36% of employers surveyed anticipate no change. After seasonal adjustment,  the Net Employment Outlook(2)   – the difference between the percentage of employers expecting to hire staff and the percentage of those planning to reduce staff  – stands at a very optimistic value of +34%, the sixth consecutive quarterly increase. Predictions for the staffing world are growing by 4 percentage points since the fourth quarter of 2021 and by 28 percentage points since Quarter 1 2021.  This is the strongest Net Employment Outlook recorded since the survey was launched in Belgium in 2003.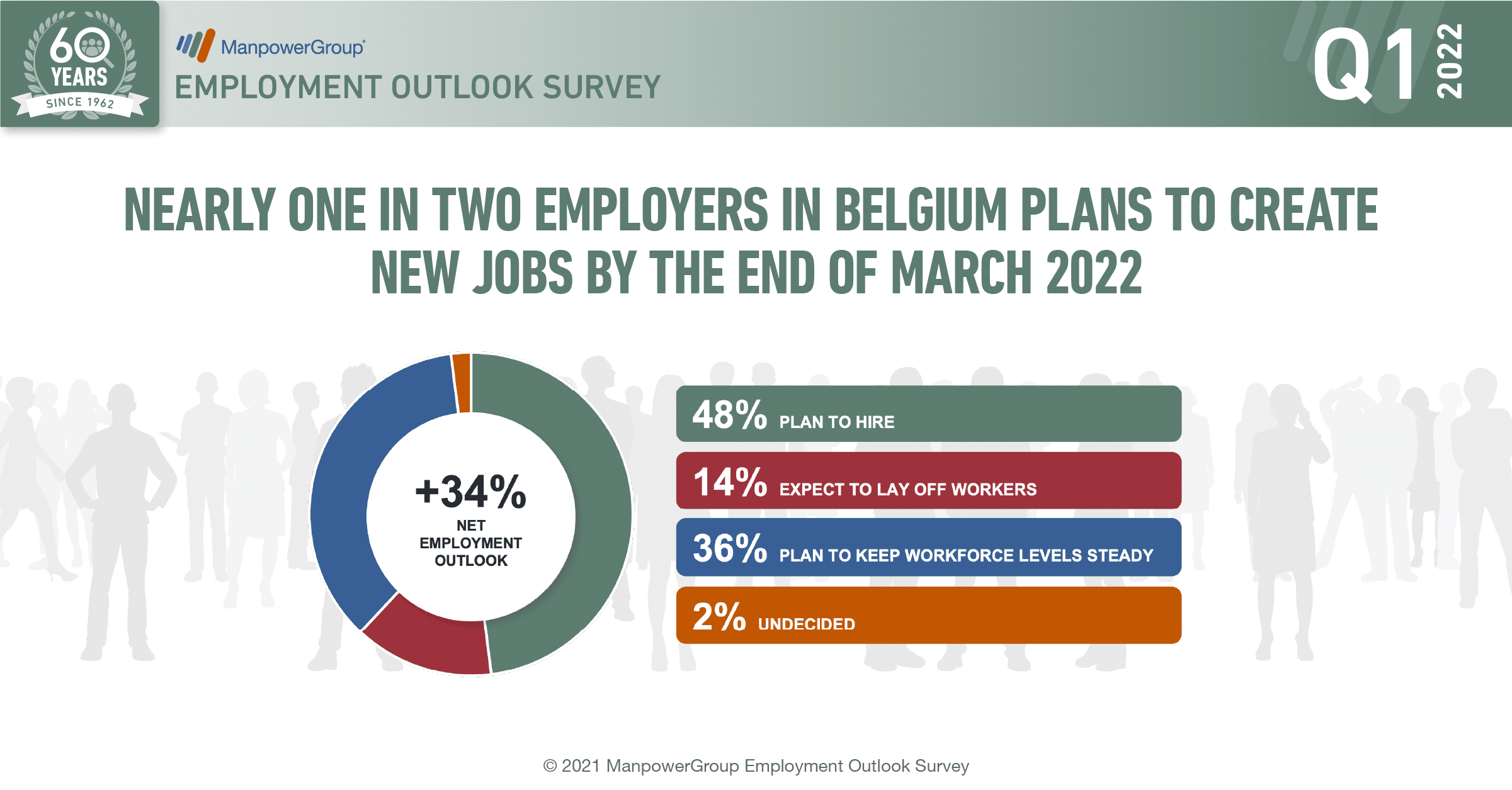 "Even though the job market is uncertain once again, due to the fourth wave of the coronavirus, we can expect employers to continue to recruit at a steady pace throughout the first quarter of 2022," explains Philippe Lacroix, Managing Director of ManpowerGroup BeLux. "However, there are many reasons to remain confident, since the booster vaccination campaign is expected to ramp up. Firstly, our economy has returned to its pre-crisis level of growth and is continuing its rapid transformation.  Our survey shows that demand for digital profiles has never been higher and employers in the IT sector report the strongest Net Employment Outlook (+53%). Secondly, hiring intentions are positive across all sectors surveyed, with very encouraging forecasts in the IT, Banking & Insurance, Construction and Retail / Logistics sectors. Thirdly, and more structurally, the boomer generation born between 1943 and 1960, is about to leave the labour market and will create additional hiring activity, but at the same time it will exacerbate talent shortages and increase pressure on wages."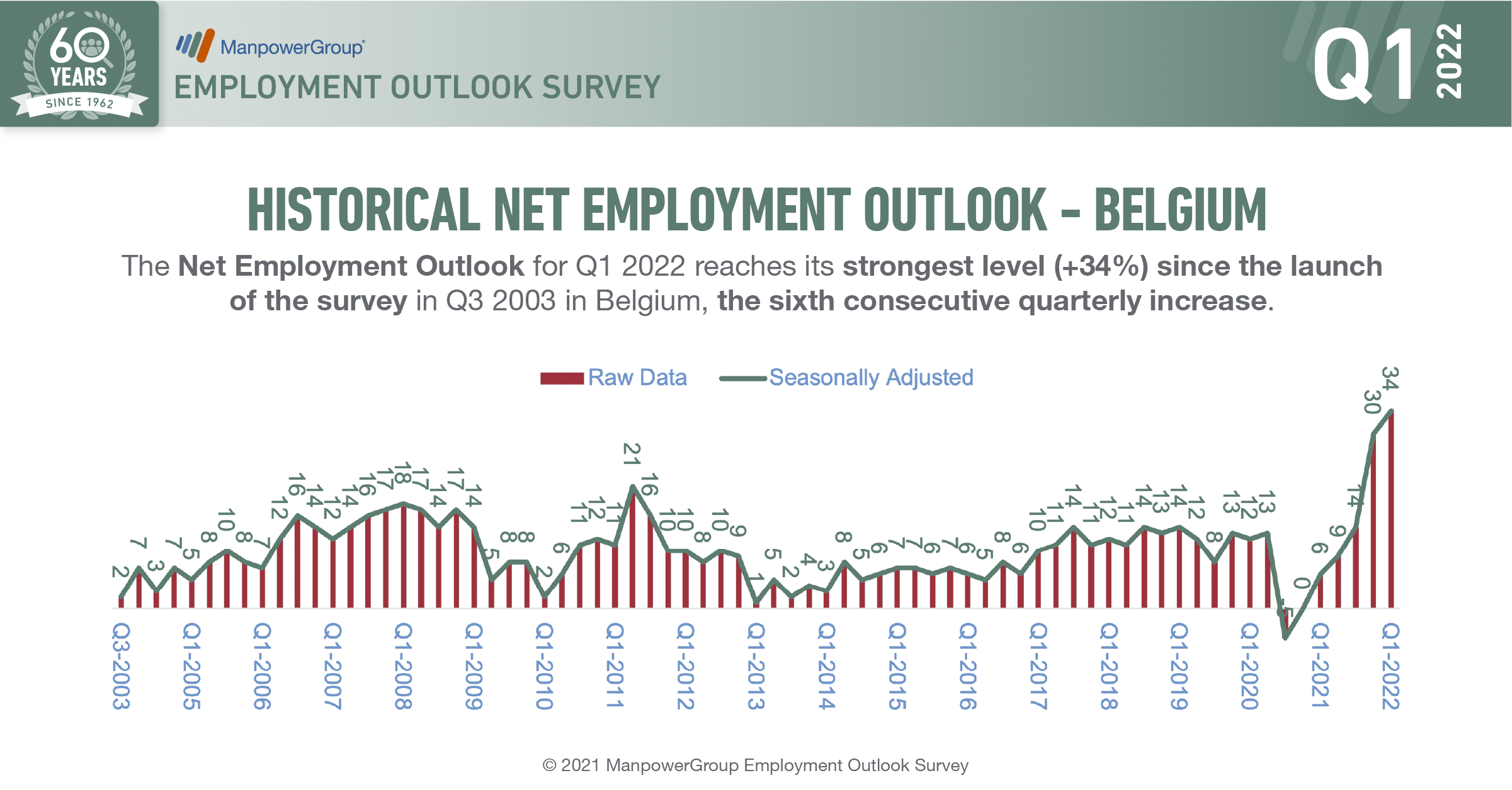 Stronger hiring confidence in Brussels and in Flanders
Employers anticipate positive Net Employment Outlooks in all three regions in the coming quarter. However, employer confidence is stronger in Brussels (+42%) and Flanders (+40%) than in Wallonia (+20%), where the Net Employment Outlook declines by 13 percentage points from the previous quarter.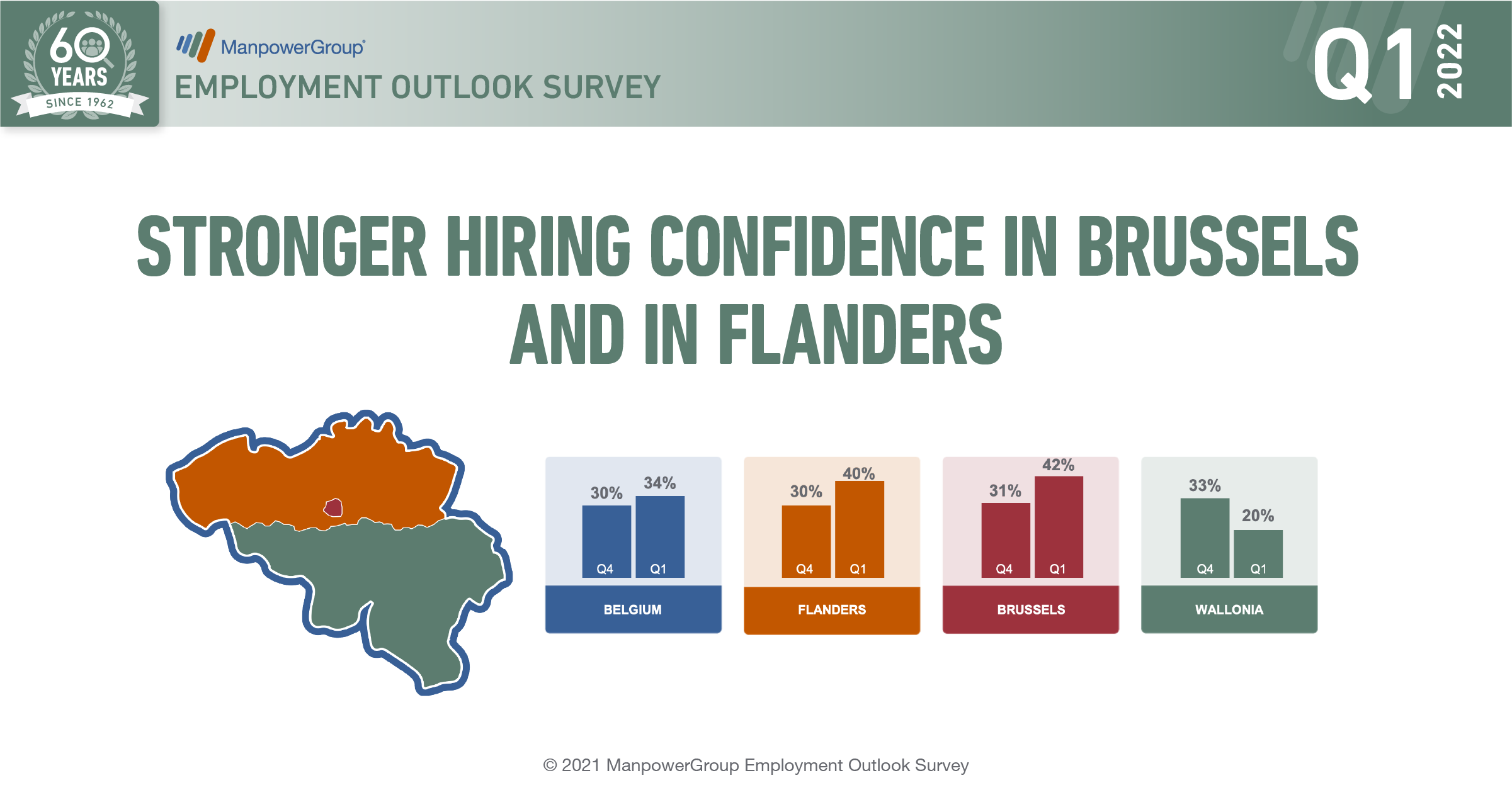 Positive hiring intentions in all 10 sectors surveyed, with the IT sector leading the way
Employers in all 10 industry sectors surveyed by ManpowerGroup expect to add jobs in Quarter 1 2022. The hiring situation is expected to improve in six sectors in comparison with the previous quarter and in all sectors in comparison with the first quarter of 2021.
Employers in the IT, Technology, Telecoms, Communications & Media sector report the strongest Net Employment Outlook (+53%), confirming the high demand for digital talent to support business transformation and the transition of our economy.  More than six in ten employers surveyed in this sector plan to strengthen their workforce by the end of March 2022. Employers in the Construction sector report strong hiring plans, (+48%), and in the Banking, Finance, Insurance & Real Estate sector (+45%). Employers surveyed report very encouraging Net Employment Outlooks in the Wholesale & Retail Trade / Supply Chain&Logistics sector (+41%) as well as in the Manufacturing sector (+38%). Hiring activity is expected to be more moderate in Other Services (+29%), Education, Health, Social Work and Government (+27%), Restaurants & Hotels / Culture & Leisure (+22%) and Primary Industry (+20%)  – Agriculture & Fishing; Electricity, Gas & Water; Mining & Quarrying – and Other Industries (+15%).
.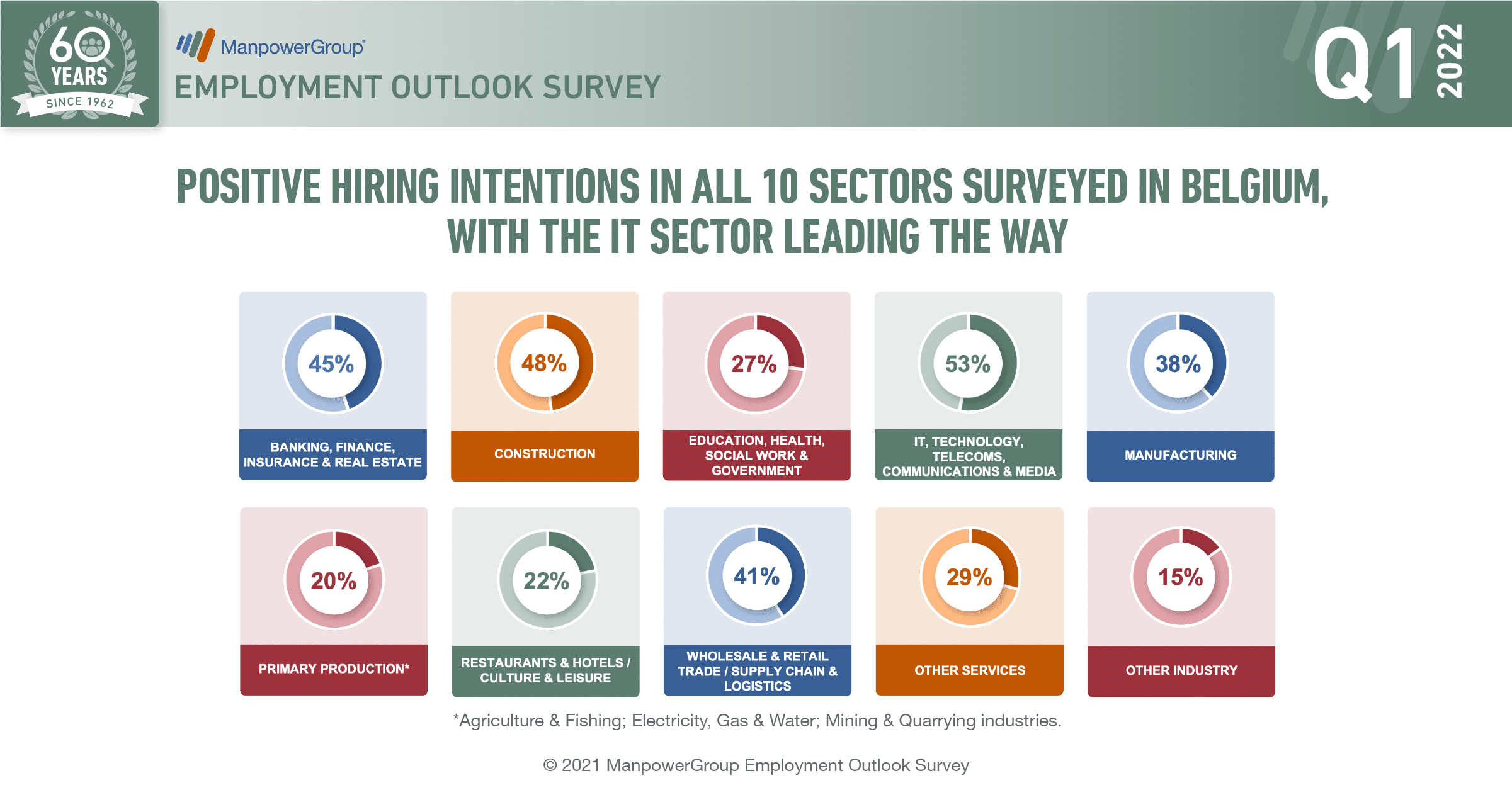 Employer confidence grows in line with company size
According to the ManpowerGroup survey, the Net Employment Outlook shows an increasing value in line with the size of the company: +15% for Micro businesses (<10 workers), +23% for Small businesses (10-49 workers), +35% for medium-sized companies (50-249 workers) and +46% for large companies (≥ 250 workers).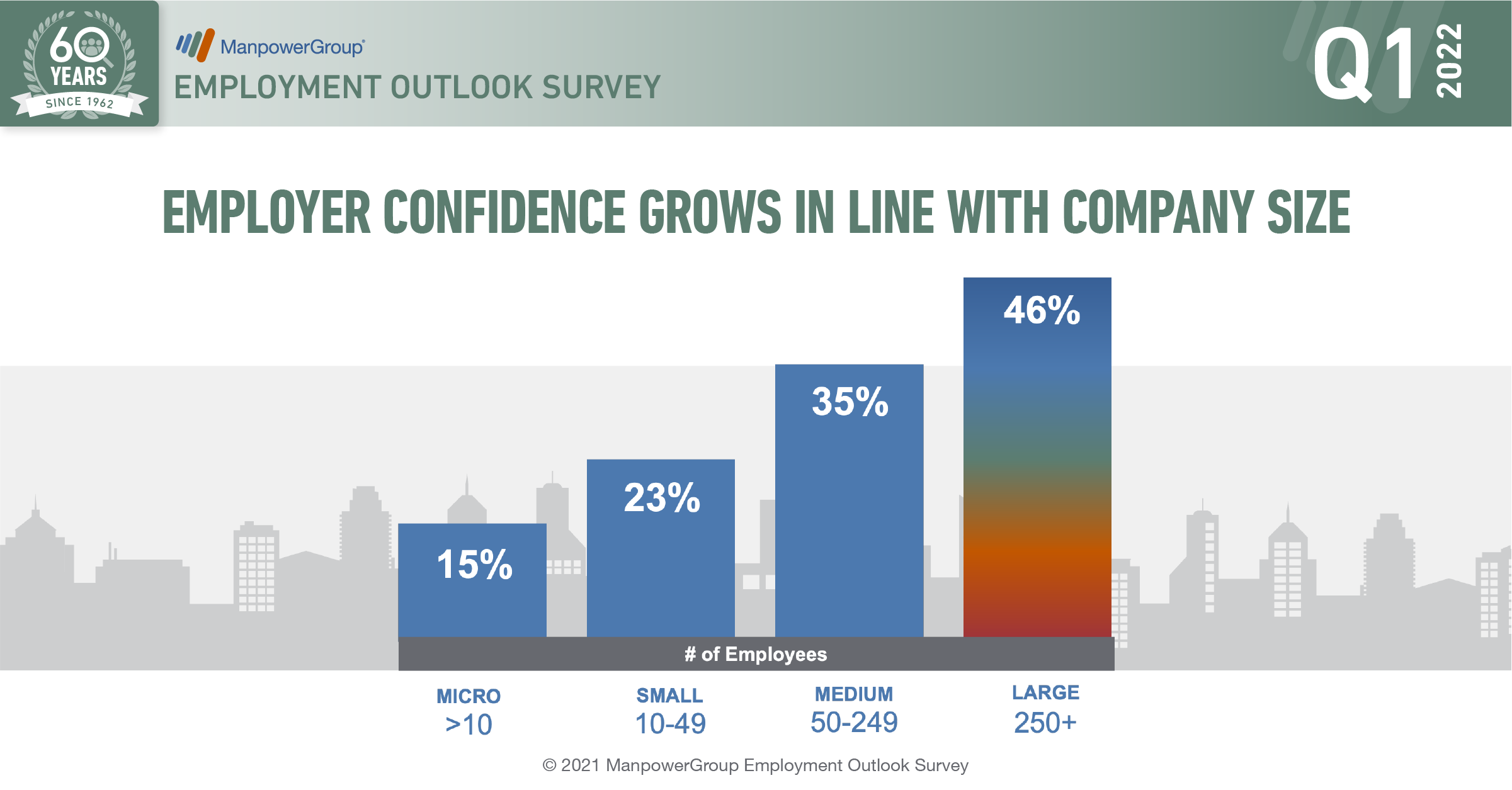 Positive employment outlooks in all 40 countries and territories surveyed
For the first time since before the pandemic, hiring intentions are positive in all 40 countries and territories surveyed, and improving in 36 compared to the previous quarter. The Net Employment Outlook stands at +37% globally.
This encouraging trend is also observed within the EMEA region, with positive hiring intentions in all 23 countries surveyed, with 22 countries reporting increases in quarter-over-quarter hiring. Employers in The Netherlands (+47%), Ireland (+47%), Portugal (+37%), Germany (+36%) and Austria (+36%) reporting the most optimistic Net Employment Outlooks in Europe. At +34%, Belgium's Net Employment Outlook is above the EMEA average (+28%) and ahead of the UK (+32%), Italy (+28%) and France (+26%). The weakest Outlooks in the region are reported in Hungary (+19%), Greece (+16%) and the Czech Republic (+14%).
Employment prospects are also very optimistic in India (+49%), Brazil (+47%), and the United States (+41%), whereas they are more moderate in China (+25%).  Employers in Taiwan (+13%) and Japan (+11%) report the weakest hiring intentions of all countries and territories surveyed globally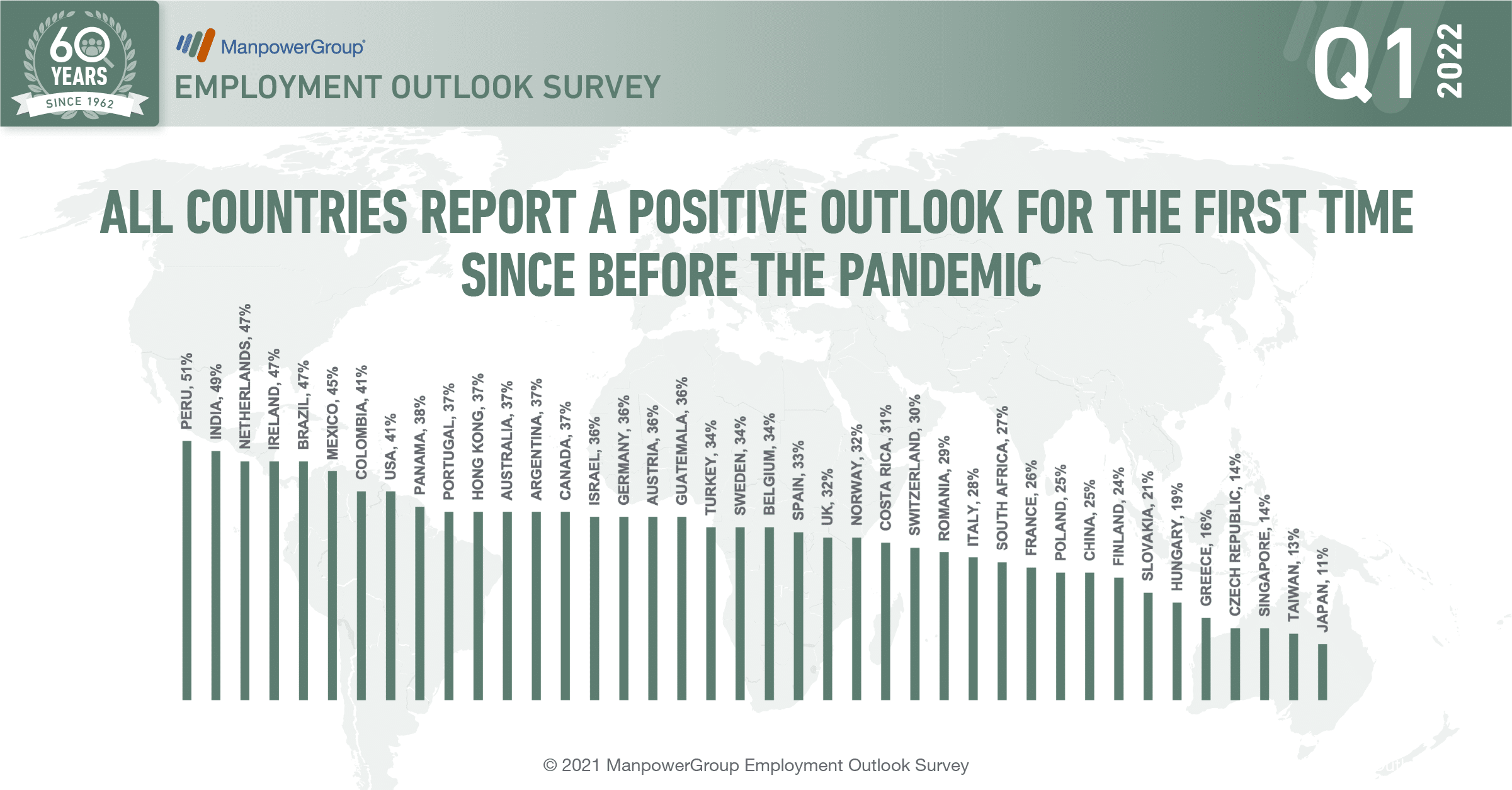 The results of the next ManpowerGroup Employment Outlook Survey will be released on 8th March 2022 and will report hiring expectations for Q2 2022.
(1) The ManpowerGroup survey was conducted in October 2021, before the new restrictions imposed by the fourth wave of the coronavirus.
(2) Net Employment Outlook: This figure is derived by taking the percentage of employers anticipating an increase in hiring activity and subtracting from this the percentage of employers expecting to see a decrease in employment at their location in the next quarter. The result of this calculation is the Net Employment Outlook. Net Employment Outlooks for countries and territories that have accumulated at least 17 quarters of data are reported in a seasonally adjusted format unless otherwise stated. Seasonally adjusted data are not available for Croatia.